Creating question papers on the mobile phone is easy. It hardly takes 2-3 minutes to create a full syllabus question paper with the solution on your mobile device. Simply choose questions from our databank and create papers online within minutes.  You can do it without typing a single question. Let's understand the whole process of making a question paper on a mobile phone.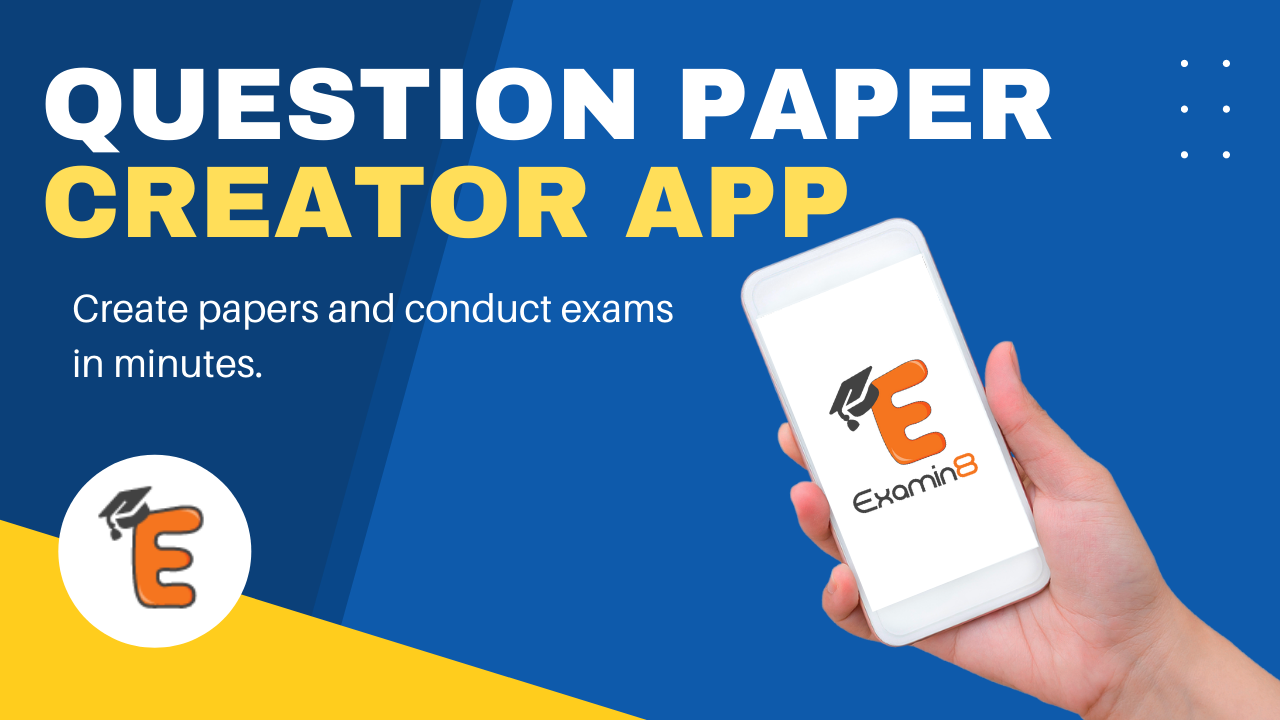 Step 1 – Download the Examin8 App
You can download the Examin8 App from Google PlayStore for free. This app works on Android devices. You can also access the same on any mobile browser like Safari, Chrome, Firefox etc using the link https://app.examin8.com.
Step 2 – Select Class and Subject
After signing in to the application, you can click the START button on the home screen of the dashboard and select your class and subject for which you want to create the question paper.
After that, fill in other details like paper name and time allowed. Here you should select blueprint mode as below:
Manual mode – to customize sections.
Express mode – to create paper quickly with less customization.
Automated mode – to use prefilled blueprints of CBSE board exams.
Then proceed to the next step.
Step 3 – Preview and Download Paper
Here, you will just give a final touch to your question paper. You can edit the question or replace it. You can also add internal choice to the questions as per your blueprint and download it as a PDF or Word file.
These 2-3 simple steps will make the whole process of creating a question paper fun for you. It will hardly take 2-3 minutes.
Video Tutorials
Here are some very useful video tutorials on how to make question paper on mobile phone. We have three main blueprint modes. These are
Express mode
Automated mode
Manual mode
How to use Blueprint Mode?
Manual
You can add questions one by one from each chapter. Suitable if too much customization is required.
Express
You can add questions altogether from each chapter. Suitable if less customization is required.
Automated
Questions are added automatically based on a prefilled blueprint. Suitable if no customization is required.
Although you can create question papers using any of the above modes yet we always suggest that you prefer express or automated mode while making question papers on mobile devices.
Creating Papers on Mobile Devices
Why most of the teachers are searching for tools that work on mobile devices?
It is because every teacher will certainly have a smartphone but many of them may not have a laptop or PC. Another reason is that mobile devices are easy to access, handy and always available to work. You can not carry a PC or laptop everywhere but you can certainly keep your phone with you.
So, even for creating papers, teachers prefer a tool that is available on their mobile phones. If you are also searching for any question paper-making application that works well on your mobile phone as well as on PC/Laptop, Examin8 will be your first choice.
Examin8 App can help you create papers on your mobile phone within minutes. It also works on PCs and laptops. So, you have 100% flexibility to use it on any device you have.
Can you create papers in 2 minutes?
Yes, you can. Even before that if you are using automated mode on Examin8 App. Let's take an example. Your school head calls you and instructs you to create a pre-board paper for class 12 Maths by tomorrow with an answer key. What will happen if you do it in 2 minutes standing over there and submit it? Seems unbelievable, but you can do it. Just try it.