SCC will conduct the CGL exam in December 2022. Being a coaching centre, you are trying your best to help your students practice as much as possible. But creating a perfect question paper and conducting exams online is really time taking process. We are here to help you with this.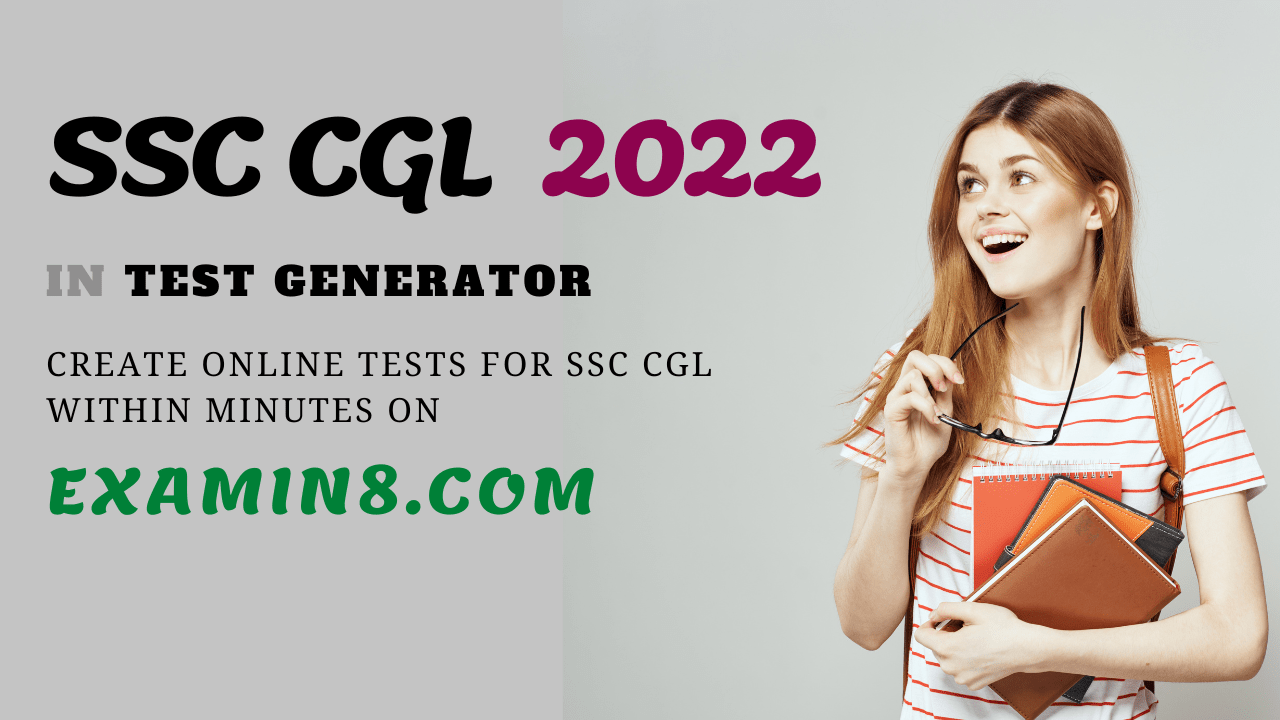 Now you can create SSC CGL Mock Tests online within a minute with your own name and logo. Just create the online Mock Test and share the link with your students. They will attempt the test on their mobile devices. You will get a consolidated result and your students will get individual results with the option to review their answers.
SSC CGL Mock Tests
Yes, you can create customized Mock Tests for your students. Now, it's hardly a matter of a few seconds. Just visit https://examin8.com and create SSC CGL Mock Tests with your brand name. As these are online mock tests, your students will get instant results with detailed analysis.
So, what are you waiting for? Just log on to our Test Generator and create your first SSC CGL Mock Test for 100% free.
We have question bank for:
General Intelligence and Reasoning
General Awareness
Quantitative Aptitude
English Comprehension
Computer Knowledge
SSC CGL Tier-I Mock Tests
Staff Selection Commission will conduct CGL exam in two Tiers. The Tier-I examination is of qualifying nature but no student is allowed to sit in the Tier-II exam unless he/she qualifies Tier-I examination.
As the syllabus for both tiers is very similar now, students must work hard on the core components of the syllabus. You can use your test generator application to create Tier-I Mock Tests very easily.
SSC CGL Tier-II Mock Tests
Even for the tier-II examination, we have plenty of questions. It includes questions asked in previous CGL and other equivalent competitive examinations.
Other than DEST (Data Entry Speed Test), we have all the modules on Test Generator.
How To Create CGL Mock Tests?
Here are the steps to follow:
Click the START button on Generate New Question Paper module
Now select your subject. Here, if you want to add questions from multiple subjects in one paper, you can skip selecting the last dropdown.
Then fill in other details like question paper name, duration of the test, date & time, general instruction etc and proceed.
Now, choose questions from our question bank and create the link.
Finally, share this link with your students. They will attempt the test and get an instant result analysis.
Indicative Syllabus (Tier-I)
General Intelligence & Reasoning: It would include questions of both verbal and non-verbal types. This component may include questions on analogies, similarities and differences, space visualization, spatial orientation, problem-solving, analysis, judgment, decision-making, visual memory, discrimination, observation, relationship concepts, arithmetical reasoning and figural classification, arithmetic number series, non-verbal series, coding and decoding, statement conclusion, syllogistic reasoning etc. The topics are, Semantic Analogy, Symbolic/Number Analogy, Figural Analogy, Semantic Classification, Symbolic/Number Classification, Figural Classification, Semantic Series, Number Series, Figural Series, Problem Solving, Word Building, Coding & de-coding, Numerical Operations, symbolic Operations, Trends, Space Orientation, Space Visualization, Venn Diagrams, Drawing inferences, Punched hole/ pattern- folding& un-folding, Figural Pattern-folding and completion, Indexing, Address matching, Date & city matching, Classification of centre codes/roll numbers, Small & Capital letters/numbers coding, decoding and classification, Embedded Figures, Critical thinking, Emotional Intelligence, Social Intelligence.
General Awareness: Questions in this component will be aimed at testing the candidates' general awareness of the environment around them and its application to society. Questions will also be designed to test knowledge of current events and of such matters of everyday observations and experience in their scientific aspect as may be expected of any educated person. The test will also include questions relating to India and its neighbouring countries especially pertaining to History, Culture, Geography, Economic Scene, General Policy & Scientific Research.
Quantitative Aptitude: The questions will be designed to test the ability to appropriately use numbers and number sense of the candidate. The scope of the test will be the computation of whole numbers, decimals, fractions and relationships between numbers, Percentage. Ratio & Proportion, Square roots, Averages, Interest, Profit and Loss, Discount, Partnership Business, Mixture and Alligation, Time and distance, Time & Work, Basic algebraic identities of School Algebra & Elementary surds, Graphs of Linear Equations, Triangle and its various kinds of centres, Congruence and similarity of triangles, Circle and its chords, tangents, angles subtended by chords of a circle, common tangents to two or more circles, Triangle, Quadrilaterals, Regular Polygons, Circle, Right Prism, Right Circular Cone, Right Circular Cylinder, Sphere, Hemispheres, Rectangular Parallelepiped, Regular Right Pyramid with triangular or square base, Trigonometric ratio, Degree and Radian Measures, Standard Identities, Complementary angles, Heights and Distances, Histogram, Frequency polygon, Bar diagram & Pie chart.
English Comprehension: Candidates' ability to understand correct English, his basic comprehension and writing ability, etc. would be tested.