Examin8 – Test Generator helping schools, teachers, tutors and parents create papers and worksheets for the past 5 years. Thousands of teachers use it daily to generate offline question papers and online MCQ tests with their own name and logo. But the new users would like to explore it for free. Especially, parents who want to create papers using NCERT books only wish to have a free version. That's why we have launched Test Generator Basic. It's 100% free and will remain free forever.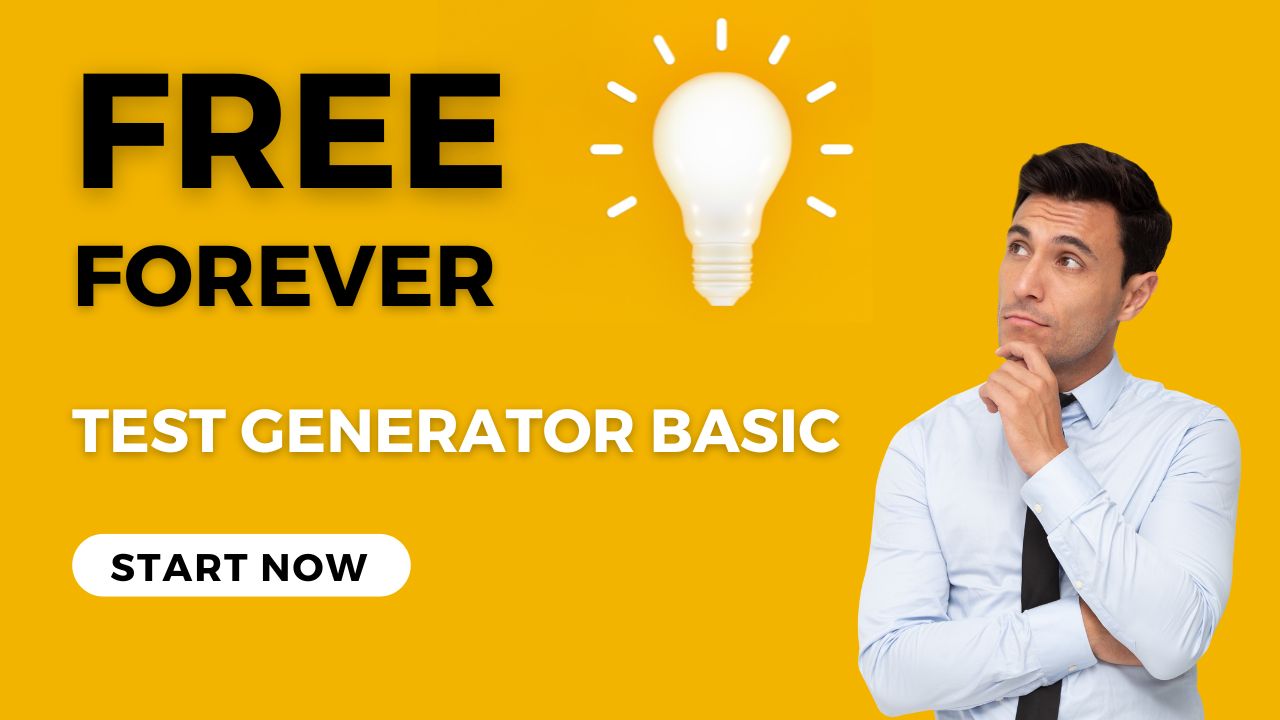 What is Test Generator Basic?
Test Generator Basic is the collection of NCERT textbook questions. You can use it to create unlimited question papers and worksheets for free. There are no hidden charges and no hidden terms of use. You can create any number of question papers and worksheets online within a few minutes and download them as PDF with your name and logo.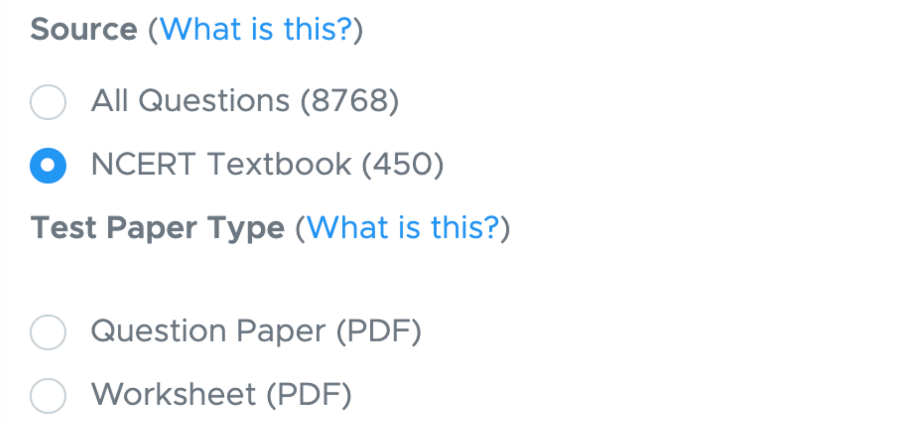 Creating Question Papers in TG Basic
As soon as you open the Test Generator, you will get the option to select class and subject. Once done, you will get the option to select the source on the top. Here, "NCERT Textbook" is the test generator basic. It is free and will remain free forever. Just select NCERT book and proceed.
Now, the next option will show you two alternatives. Question Paper (PDF) and Worksheet (PDF). You can choose it as per your requirement and create it for free.
What if I already have an active package?
Even if you have an active package, you can create questoin papers in Test Generator Basic mode. We will not deduct any paper against the papers created using Test Generator Basic mode. So, it's free for you too. Thus, our active package holders can use Test Generator Basic for free.
Why Test Generator Basic is FREE?
The basic mode of the test generator is based on NCERT textbook questions. The purpose to keep it free is to help teachers to start using technology as a tool for assessment too. It will not only save their quality time but also motivate them to use technology in teaching.
If you find it useful and wish to have advanced features, you can subscribe to our test generator plans that start from ₹500/year.
Free Vs Premium
| | | |
| --- | --- | --- |
| Features | Test Generator – Basic | Test Generator – Premium |
| Question Source | Only NCERT textbook | NCERT, Exemplar, Previous Year Papers, CBSE, KVS, NVS, Del Govt Question Banks and Questions created by teachers. |
| Typology of Questions | Chapter-end questions of NCERT books. Mostly subjective. | Multiple Choice, Assertion & Reason, Case Study, Fill ups, T/F, Matching, Statement, MAP, Picture based, Extracts, Passages etc. |
| Payment | 100% Free | Starts from ₹500/year |
Use it for Free
As you may have noticed that most of the questions asked in exams are directly or indirectly from NCERT books only. If your students are well prepared on NCERT book questions, they will definitely score good marks in exams as well. So, why not start with the basic version of the test generator and create papers for your students. It will boost confidence in your students. Once you find that they have achieved the NCERT level and are ready for advanced practice, you can buy our premium plan.
How to use it for FREE?
Here are the steps to follow:
Click on the Start button
Now, select desired class and subject
As soon as you select a subject, you will get the "NCERT Textbook" source. Select it.
Then, select the question paper type and proceed.
On the next screen, you will get an option to select the book name and chapter name.
We will show you all the questions there, just pick the questions and create your question paper for free.
Now creating question papers online is 100% free. It's a fully mobile-friendly interface so you can create your question papers on your mobile devices very easily.
If you wish to get solutions to the question papers and worksheets that you have created in NCERT Textbook mode, you can simply click on View there and then click download solution as PDF on the top right. It will hardly take a few seconds to generate a solution PDF of your question paper.